Heartland nets most AMPIA awards noms
Seven24 Films' CBC family drama is vying for 13 prizes while Nomadic Pictures' AMC western Hell on Wheels is vying for eight in the Alberta awards race.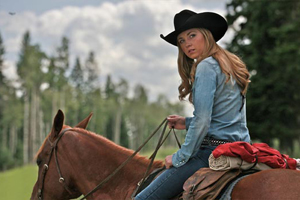 The Alberta Media Production Industry Association (AMPIA) has revealed the finalists for the 2013 Alberta Film and Television Awards, and leading the race is Seven24 Films'  Heartland.
The CBC family drama is in the running for a total of 13 prizes. They include best dramatic series and two in the best director (drama over 30 minutes) category: Dean Bennett, who helmed the episode The Road Ahead and Grant Harvey, who helmed the episode Helping Hands.
Close on its heels is Hell on Wheels, Nomadic Pictures' western for AMC. It's vying for a total of eight, including in most categories competing with Heartland, among other programs, for the coveted trophy.
The nominees in the best dramatic series category, besides Heartland and Hell on Wheels, are Bluff by SkyeLove Pictures and Tiny Plastic Men from Mosaic Entertainment.
Meanwhile, the nominees in the best dramatic feature film category are: Cody Fitz from Umbrella Collective Films, Ferocious from CHAOS,  Kept from Plainsight Pictures and Dalmation Coast Productions, PSEUDO Blood Of Our Own from Canadian Bollywood Films and Rufus from Lonely Boy Productions.
The complete list of nominations in the more than 50 categories (including news, transmedia and public relations) is found here.
The winners will be announced during a ceremony in Edmonton May 25.