Canada AM marks 40 years on the air
The week-long special programming is set to include musical performances by the likes of Glass Tiger and Blue Rodeo and appearances by former hosts and anchors, including Sandie Rinaldo (pictured).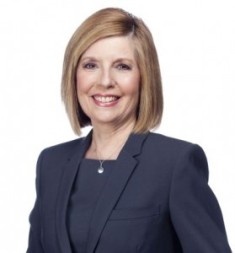 CTV is planning a week of on-air events to honour Canada AM's 40th birthday.
Stretching across the week of Oct. 22, the event will see the morning show looking back to memorable moments such as appearances by famed entertainment acts and historical headline stories since 1972.
Scheduled to make appearances are casts of various incarnations of the Degrassi franchise and musical acts such as Glass Tiger, Blue Rodeo and Burton Cummings.
A variety of former hosts and news anchors will also return to reminisce, including Lisa Laflamme, Valerie Pringle, Sandie Rinaldo (pictured) and Pamela Wallin.
Tie-ins at www.canadaam.ctv.ca include a photo timeline, and current contributors' favourite memories of the show.