CBC must explain Hockey Night in Canada contingency plan: lobby group
Friends of Canadian Broadcasting estimates the pubcaster stands to lose $200 million and more than 400 hours of programming if it loses rights to NHL broadcasts.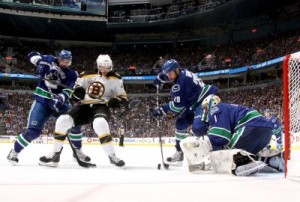 According to lobby group Friends of Canadian Broadcasting, the current NHL lockout that has broadcasters scrambling to fill empty programming slots is only the tip of the iceberg for the CBC if it loses the rights to Hockey Night in Canada in 2014, when its agreement with the league expires.
In a recent analysis filed to the CRTC, the self-professed watchdog argues that the NHL accounts for more than 50% of the CBC's ad revenue, not including the additional ad sales it drives elsewhere, and also brings in one third of the CBC's audience.
All told, Friends of Canadian Broadcasting estimates that hockey earns a $15 million profit for the CBC, and the loss of HNIC would cost the pubcaster 400 hours of programming and $200 million.
"The CBC is hooked on hockey," says group spokesperson Ian Morrison, in a statement.
"If the CBC were to lose hockey, it would need to replace some 400 hours of hockey programming with a similar quantity of the very best, most attractive – and expensive – Canadian shows," he added, noting that a strategy to cut costs, such as airing American movies, would prevent the CBC from meeting its Cancon requirements.
Adding to the grim outlook, Morrison said the pubcaster will face deep-pocketed competition for hockey rights in 2014, namely from Rogers and Bell, both of which have specialty sports channels.
The two broadcast giants also have joint control over Maple Leafs Sports and Entertainment, the parent company of the Toronto Maple Leafs, and a history of outbidding the CBC for rights to broadcast sports.
But Chuck Thompson, CBC's head of media relations, says the pubcaster is undaunted by these challenges.
"HNIC holds an important place on our schedule, from which we generate a significant amount of revenue, and going forward CBC has every intention of continuing its partnership with the NHL well beyond 2014," he tells Playback.
In the report, Friends of Canadian Broadcasting called on the regulator to require the CBC to explain how it will deliver the Canadian content, regional shows and distinctive programs that the Broadcasting Act requires in the event that CBC loses HNIC.
The group "is not proposing that CBC Television drop hockey but our national public broadcaster must prepare for this scenario, which could open new and exciting possibilities to operate more like a public broadcaster in sharp distinction from its private sector competitors – just as its radio services have done for many decades," says Morrison.