CTV to broadcast 2014 Junos from Winnipeg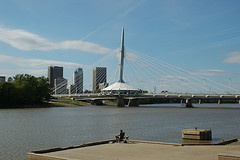 CTV will bring its TV cameras to Winnipeg for the 2014 Juno Awards, the Canadian Academy of Recording Arts and Sciences said Thursday.
The 43rd annual Juno Awards will be broadcast from the MTS Centre on March 30, 2014, for the second time in Winnipeg after that city hosted the 2005 Juno Awards.
The 2013 Juno Awards will be held in Regina, Saskatchewan on April 21, 2013.
CTV, since taking over the Juno Awards from the CBC in 2002 have taken the music industry kudosfest on the road, from coast to coast.
The recent 2012 Junos took place in Ottawa last April.
Tags: Canadian Academy of Recording Arts and Sciences, CTV, Juno Awards, MTS Centre, Regina, Winnipeg

The definitive CDN broadcast and production resource.
Over 5,000 company listings!