Canadian producers and WGC reach new tentative IPA deal
The agreement Friday followed a final bargaining push leading up to the new three-year deal.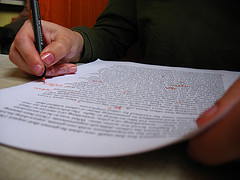 A tentative deal on a new Independent Production Agreement between the Writers Guild of Canada, the Canadian Media Production Association (CMPA) and the Quebec Film and Television Producers Association (APFTQ) has been reached.
Deal points on the new three year deal, to run to December 31, 2014, were not disclosed Friday and await all three parties ratifying the agreement.
"We are very proud we were able to reach an agreement that recognizes the needs of Canadian producers, yet fairly compensates Canadian writers across the country," Reynolds Mastin, chief negotiator and chief legal officer at the CMPA, said in a statement after three days of negotiations this week on a new IPA agreement.
"This agreement was jointly negotiated with the APFTQ and will result in a single agreement from coast to coast with respect to writing in the English language in film and television," he added.
"We are pleased to have reached a workable agreement with our production partners that recognizes the valuable contribution of Canadian screenwriters," Maureen Parker, WGC executive director, added in her own statement.