Pinewood Toronto Studios signals expansion
Three new 11,000 square foot soundstages are to be built, and around 100,000 square feet of new office space added, as the mega-studio looks to draw more episodic TV production.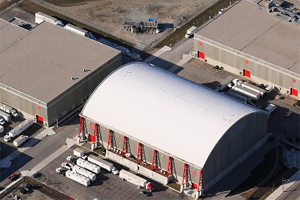 Pinewood Toronto Studios is to build three new soundstages, each at 11,000 square feet in size, and mainly as affordable locations for Canadian TV drama shoots, Paul Bronfman, chairman of Pinewood Toronto Studios, tells Playback.
The new stages, with a 35 foot span and all the modern bells and whistles, aims to draw Canadian and U.S. episodic TV, and less so movies that already populate the initial Pinewood Toronto Studios stages.
The mega-studio is also setting aside 6 acres for a back-lot where producers can construct facades for Manhattan, Paris or Tokyo, or whatever location they have in a script.
"We don't have pre-fab facades down there. We'll leave it up to the producers to build them. So we have a back-lot open for business," Bronfman says.
The latest studio expansion also calls for around 100,000 square feet of new office space.
The Toronto Port Lands studio already has nine soundstages, including the 45,900 square foot mega-stage.
Alfredo Romano, a partner in Pinewood Toronto Studios, added the studio expansion from its current 250,000 square feet of stages will enable the facility to attraction more production.
"This will allow us to accommodate more film. More jobs are being created, and that's a positive sign for the entire district," he said Monday.