Whistler unveils its first film titles, including Borsos entries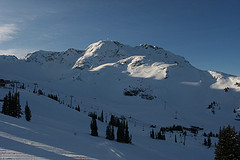 The Whistler Film Festival is giving world premieres to David Mortin's Mad Ship and the Sean Garrity thriller Blood Pressure as part of its Borsos competition for best Canadian feature.
Unveiling its first lineup picks, Whistler programmed Mortin's first feature that tells the true story of a Scandinavian immigrant caught in the Depression-era dustbowl.
Nikolaj Lie Kass has the lead role, with Gil Bellows, Martha Burns and Aidan Devine in the ensemble cast.
Garrity's Blood Pressure, about an unhappy wife who starts receiving anonymous notes enticing her to perform certain inexplicable acts of voyeurism on a mysterious young man, stars Michelle Giroux, Tatiana Maslany and Jonas Chernick.
Whistler will also screen Garrity's My Awkward Sexual Adventure, which will bow in Toronto, and Michael McGowan's Still, another TIFF transplant.
And there's an English Canadian premiere of Martin Laroch's faux documentary Fair Sex, while The Mountain Runners, a docudrama directed by Todd Warger and Brian Young, will also screen in Whistler.
Elsewhere, the American indie in Whistler will include Dan Mirvisch's first feature Between Us, which stars David Harbour, Taye Diggs and Melissa George.
The Whistler Film Festival is set to run from Nov. 28 to Dec. 2, 2012.
Tags: Blood Pressure, David Morton, Sean Garrity, The Mad Ship, Whistler Film Festival

The definitive CDN broadcast and production resource.
Over 5,000 company listings!