Atom Egoyan to direct Queen of the Night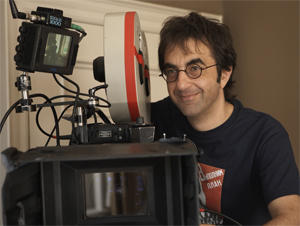 Atom Egoyan (pictured) is to direct his next movie, Queen of the Night, in southern Ontario in February 2013.
The co-production between Ego Film Arts and The Film Farm will star Ryan Reynolds in a psychological thriller based on an original story by Egoyan, and with a screenplay by Egoyan and David Fraser.
Reynolds is to play the father of an abducted child who, eight years after her kidnapping, discovers disturbing clues to suggest the now 17 year-old girl remains alive.
The Canadian indie will be produced by Egoyan, Simone Urdl, Jennifer Weiss and Stephen Traynor.
Entertainment One will release Queen of the Night in Canada, and distribute internationally.
Tags: Atom, David Fraser, Ego Film Arts, Entertainment One, eOne, Jennifer Weiss, Queen of the Night, Ryan Reynolds, Simone Urdl, Stephen Traynor, The Film Farm

The definitive CDN broadcast and production resource.
Over 5,000 company listings!