Total Recall gets an interactive storefront
Science fiction grounded itself on Toronto's trendy Queen Steet this week with a digital installation that has taken over four large windows of a retail space for Sony Pictures film Total Recall. The Toronto-shot remake of the original 1990 film is set to appear on the big screen this August.
Pedestrians that walk by the storefront can have their fantasy come true by having their video image captured in high-profile scenarios. There is the option to be a Hollywood star hounded by paparazzi on a red carpet, a music DJ in front of hundreds of fans or even a bikini-clad supermodel on a boat. An image of the person in the scenario is projected on the large window pane, after which they are directed to another window camera to have a "Rekall" ID badge created and e-mailed to them.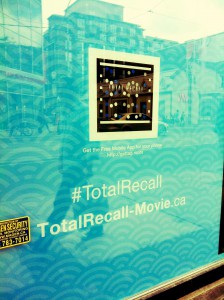 The stunt brings the premise of the film to life with the message of "Tell us your fantasy. We'll make it real," and was first seen in the U.S. in Los Angeles and New York three days before the Toronto installation popped up.
Sony Pictures worked with UMWW to coordinate placement in Toronto and New York-based OAG in the U.S., with creative by BLT Communications and Oakville, ON.-based Monster Media providing the technology and constructing the installation, which will be up for the next four weeks.
David Leetham, VP, Monster Media, says that up to 45,000 people walk past the storefront each day, and while this is great exposure for the film, it does more than that. "I think what Sony will get out of this is the ability to actually engage with the consumer, this isn't just vinyl on a store or a billboard that's backlit," says Leetham. "It's a great type of campaign where you allow uninhibited people to go up to the storefront and create an experience that draws a crowd."
From Media in Canada
Tags: David Leetham, Monster Media, Total Recall

The definitive CDN broadcast and production resource.
Over 5,000 company listings!