ACTRA pushes for global arts rights pact
ACTRA National president Ferne Downey tells Beijing conference of the need to finish the international rights treaty in digital age.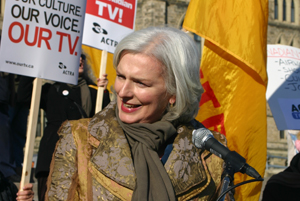 The national president of the Alliance of Canadian Cinema, Television and Radio Artists' has told delegates at a United Nations' intellectual-property-rights meeting in Beijing of the urgent need to lock in a binding global legal pact in the digital era.
"While digital technology as empowered artists, it has also left us more vulnerable than ever,"  Ferne Downey said during an opening address of the World Intellectual Property Organization (WIPO) yesterday. WIPO, a U.N. agency, is holding a week-long conference to help finalize a treaty that would extend moral and financial protections for film, TV and digital media artistic creators and performers universally.
Downey continued in a statement, "This is why it is critical that we have an international mechanism to safeguard our rights. Without it, audiovisual performers are finding our work is being exploited and stolen and our images are being used in ways we would never choose."
She was one of only two artists invited to address the conference in person, the other being Mei Bao Jiu, a senior artist from the Beijing Opera.
Downey is among a delegation at the conference from the International Federation of Actors, a body that includes representatives from SAG-AFTRA, Equity U.K. and Australia's Media Entertainment and Arts Alliance.
The treaty has been a decades-long process and once it is signed by national governments would extend international law to the creative community.
In an email to Playback, Downey said: "Work is progressing well – thus far, with a great constructive spirit. I am optimistic"  that the pact will get closer to being finalized.
Speaking to Playback at the Banff World Media Festival last week before heading to China, she noted that representatives from more than 200 national governments would be at the conference, but it was unclear if the treaty would get final sign off there.