Bill C-11 passage gets mixed Canuck creator reception
Canada has its first copyright reform legislation in 15 years, and Hollywood is happy.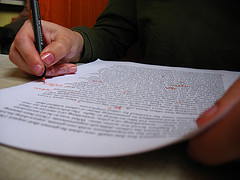 Hollywood is happy, and Canadian content creators are mostly left grumbling.
The federal government on Tuesday secured passage by the House of Commons of Bill C-11, Canada's first copyright reform legislation since 1997.
"…MPA Canada is pleased to see this government has recognized that Canada needs copyright laws to protect creators, copyright holders and all those jobs and businesses that suffer from the massive theft of creative works online," the Motion Picture Association – Canada, Hollywood's Canadian point-man, said in a statement Tuesday.
The federal bill, known as the Copyright Modernization Act, now moves to the Senate for review and likely passage.
That's where Canadian content producers and performers hope to repair Bill C-11 after the federal conservatives ignored earlier calls for amendments.
"We are deeply disappointed that none of our recommendations have been taken into account by the House of Commons," Stephen Waddell, national executive director of ACTRA, representing Canadian performers, said in a statement Tuesday.
"C-11 is now heading to the Senate where we hope Senators will pay more attention to our concerns," he added.
Waddell was speaking on behalf of a coalition of Canadian content groups that includes the Association of Canadian Publishers, Canadian Conference of the Arts, and the Canadian Copyright Coalition.
A consortium of provincial education ministers welcomed passage of the copyright reform bill in the House of Commons.
"For years now, Canada's antiquated copyright laws have been of concern to the education community, particularly their negative impact on the use of the internet and the ability of learners and teachers to harness the full potential of digital technologies," Ramona Jennex, minister of education for Nova Scotia and chair of the CMEC Copyright Consortium, said Tuesday in a statement.
Once the bill passes in the Senate, it will be granted royal assent and become law.