Renewals and distribution round-up: Top Chefs and Ice Pilots
Top Chef Canada is set to dish out third season, while Ice Pilots NWT will fly to Spanish TVs.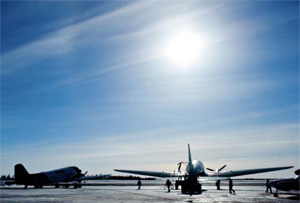 Canadian non-scripted series continue to prove their popularity domestically and internationally, with Food Network's Top Chef Canada being greenlit for a third season.
The Insight Productions property, based on the international smash hit, pits up-and-coming Canadian chefs against each other in a competition to become Top Chef and take the $100,000 grand prize.
Along the way, the chefs face a series of challenges that put their culinary skills to the test.
The third season is slated to premiere in 2013.
Elsewhere, courtesy of a deal brokered by Germany-based ohm:tv, Omni Films' Ice Pilots NWT will hit screens in Spain.
The series follows Buffalo Airlines and the exploits of its pilots, who fly World War II-era propeller planes on missions across Canada's north, no matter what the conditions.
The distribution deal grants Spain's Mediaset group rights to seasons one, two and three of the series, as well as season four, which is in production and set for delivery in May 2013.