Flashpoint to end after fifth season
The primetime drama about an elite Toronto SWAT team, which airs on CTV and ION Television stateside, will go off-duty after 75 episodes.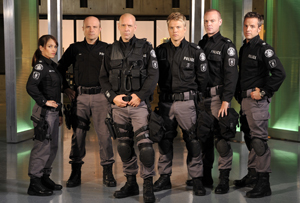 Flashpoint is coming to an end.
Flashpoint executive producers, Anne Marie La Traverse of Pink Sky Entertainment and Bill Mustos of Avamar Entertainment, told the Flashpoint actors and crew on Tuesday that the upcoming fifth season will be their last.
"Producing Flashpoint over the last five seasons has been an exceptional adventure," La Traverse and Mustos said in a statement, signaling the series about an elite Toronto SWAT team will go off duty after 75 episodes.
"We've been incredibly lucky to work with committed and supportive broadcast partners who have enabled us to reach many millions of fans across North America," they added.
CTV and ION Television earlier this year renewed the Toronto-shot series, which follows a group of police in the Strategic Response Unit, for a fifth season, which started production in February.
The final 13 episodes of Flashpoint will wrap production in June.
CTV president of programming and sports Phil King praised Flashpoint for paving the way for a host of other Canadian-made dramas to make it with Canadian audiences, and abroad.
"We look forward to exploring new projects with the superlative creative team behind this transformative Canadian series," King added.
The final fifth season of Flashpoint follows a complex syndication deal last year that allowed CBS to hand the Canadian crop drama over to ION Television for its primetime schedule stateside.
ION also did impressive audience numbers with the Canadian series The Border, The Guard and The Listener.
The first three seasons of Flashpoint aired on CBS, and four episodes of season four.
The series co-creators Mark Ellis and Stephanie Morgenstern continue to head up the writers' room on Flashpoint.