Phillipe Falardeau, Gabriel Pelletier films take foreign festival prizes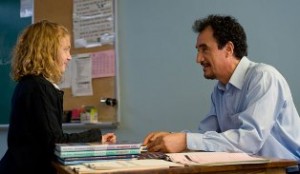 Quebec films continue to clean up on the international festival circuit.
Philippe Falardeau's Genie award-winning film Monsieur Lazhar (pictured) on the weekend picked up the audience award for best narrative feature at the RiverRun International Film Festival in North Carolina.
The U.S. festival also gave the Oscar-nominated French language feature a best actor honor for Mohamed Fellaq.
And La peur de l'eau (Fear of Water), by Quebec writer/director Gabriel Pelletier, won two awards over the weekend at the International Festival of Detective Films in Liege, Belgium, including the Grand Prize of the festival.
And Pierre Francois Legendre won the best actor trophy at the April 19 to 22 event.
Pelletier co-wrote La peur de l'eau with Marcel Beaulieu, and shot the film, which also stars Stephanie Lapointe and Pascal Bussieres, in the Îles-de-la-Madeleine.
Go Films produced the Quebec film, with financing from Telefilm Canada, SODEC, Movie Channel, the CBC, The Harold Greenberg Fund and Canadian tax credits.
Tags: Fear of Water, Gabriel Pelletier, Go Films, International Festival of Detective Films, La peur de l'eau, Marcel Beaulieu, micro_scope, Monsieur Lazhar, Pascal Bussieres, Philippe Falardeau, Pierre Francois Legendre, RiverRun International Film Festival, Stephanie Lapointe

The definitive CDN broadcast and production resource.
Over 5,000 company listings!