Omni Film announces key cast, crew for Primeval: New World
Niall Matter and Sara Canning topline the Vancouver-filmed mythological action series, which will have Martin Wood and Gillian Horvath executive producing.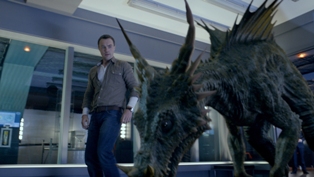 Indie producer Omni Film Productions has tapped local bench strength to cast its mythological action series Primeval: New World for Space, which started production Wednesday.
Niall Matter (Eureka, 90210) and Sara Canning (Supernatural, The Vampire Diaries) topline the North American spinoff of the Impossible Pictures U.K. series (pictured).
Producers also cast a slew of Canadian talent from Space programming like Sanctuary, Stargate Universe and Smallville, and other Canadian sci-fi and mystery series.
"This is the dream team for a series such as Primeval: New World," said Gabriela Schonbach, exec producer and partner, Omni Film Productions, in a statement.
"Vancouver is the creative hub of visual effects for television, and we are the beneficiaries of a huge pool of talent in every area of TV production. This will be a terrific expansion to the Primeval world," she added.
Miranda Frigon (Heartland), Geoff Gustafson (Hot Tub Time Machine) and Danny Rahim (East Enders) are set to star, along with a guest spot from Andrew-Lee Potts, as Connor, his character from the original Primeval series.
Local technical and creative talent is also well-represented in the Vancouver shoot.
Martin Wood and Gillian Horvath will executive produce Primeval: New World, and Amanda Tapping (Sanctuary), Andy Mikita (Stargate Universe), Martin Wood (Sanctuary) and Mike Rohl (Smallville) are set to direct.
Judith and Garfield Reeves-Stevens (Star Trek: Enterprise) created the spinoff, and are the series' writers, along with Horvath, Peter Hume (Charmed), Jon Cooksey (The Collector), Sarah Dodd (Flashpoint) and Katherine Collins (Endgame).
The creatures featured in the series will be created by Vancouver-based VFX company Atmosphere.
Set in Vancouver, the 13-ep one-hour series follows a specialized team of animal experts and scientists that investigates temporal anomalies and battles prehistoric and futuristic creatures.
Primeval: New World is produced by Omni Film Productions, and produced and developed in association with Bell Media, German free-to-air broadcaster ProSieben and UKTV channel Watch.
The Canadian series has received funding from the Canada Media Fund and local B.C. funds and tax credits.
Entertainment One holds international distribution rights.