Best of the Year: Combat Hospital
UPDATED: It may not have earned a second season, but Global TV and Sienna Films' medical drama still earns kudos for its well-executed, cleverly financed and highly popular first season.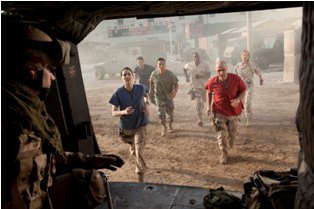 As this story was set to run in today's newsletter, Global TV confirmed that it will not greenlight a second season of Combat Hospital. 
Amidst the cacophony of industry grumbling about coproductions this year, as critics took epic miniseries like The Borgias and Camelot to task for not being Canadian enough, a majority coproduction quietly stole the show on Global TV.

Combat Hospital, picked up from script by Global and built into an 80/20 Canada-U.K. coproduction, with ABC as a U.S. partner, seemed at first an unlikely candidate for ratings wins all summer.
A show based on a military hospital in the midst of an unpopular war in a foreign land: did we really need another M*A*S*H?
But there it was, week after week, earning a season average (June 21 to Sept. 11) of 1.7 million viewers, 2+ nationally.
It was, by almost any account, a true Canadian success story.
"We loved that first script right out of the gate — we were blown away by it," says Barbara Williams, SVP of content, Shaw Media. "It was the kind of script you buy in the room, as they say. We were in right out of the gate."
Global agreed to develop the series — created by Jinder Oujla-Chalmers and Douglas Steinberg — bringing on producers Jennifer Kawaja and Julia Sereny of Toronto-based Sienna Films, who built a financing structure for the show that went through 17 iterations before the money was locked down.
U.K. prodco Artists Studio came on board, and ABC agreed to license the show for its summer slate. The show's location was decided — a Toronto glass factory deftly modified to resemble a desert-based military medical facility — and stars came on board. Very quickly, the wheels lurched crazily into motion.
"Come Jan. 1, we had no cast, no crew, no set, nothing. We had no pilot! And then we went to camera March 11 and to air June 21," Sereny explains. "That was a huge, huge risk."
Somehow, it all worked.
"It certainly met our expectations, and in a lot of ways exceeded them — this show had a premiere of 2.3 million viewers across the country, which is a huge hit by any standard, never mind Canadian drama," says Williams.
Its second season, however, is presenting challenges. As of press time, ABC's involvement in the show was uncertain and despite being a British coproduction, the series still does not have a broadcast partner in the U.K. However, with Sony selling the show globally, Sereny feels confident it will find a U.S. home. [Editor's note: Global has confirmed the show will not go forward with a second season.]
So, what brought viewers back week after week?
Firstly, Williams says Global created a "new normal" in marketing the series, seeking to create maximum awareness with Canadians.
And Sereny says she thinks Canadians were drawn to seeing a side of the Afghanistan conflict outside of the headlines.
"I think our cast brought a lot of humanity to their roles, and I think that Canadians are acutely aware of the soldiers abroad," she says thoughtfully. "I think that we were hopefully able to marry some real emotion resonance with human idiosyncrasies."
 - Intro edited Oct. 15, 2014