Production underway for NFB's Wall
The digitally animated doc essay, based on the play by David Hare, explores the impact of the Israel-Palestine barrier.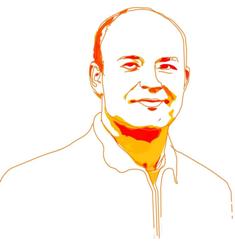 Production has begun on the NFB's Wall, a feature-length digitally animated adaptation of a David Hare play, a monologue which explores the impact of the Israel and Palestine separation barrier.
Wall is directed by Alberta's Cam Christiansen, who is using a collage of motion capture, illustration, photography, live action and classic animation techniques to animate the production. Christiansen's previous work includes animated shorts I Have Seen the Future and The Real Place, which was an official selection at Sundance 2009.
The film also stars Hare, chronicling his experiences on the ground in Israel and the Palestinian territories and offering his personal accounts on the history and philosophy behind the Israel-Palestine divide.
Wall was filmed in London, England in a motion-capture studio last week, recording Hare and other actor's reading Hare's script.
Wall is produced by David Christensen and Bonnie Thompson and executive-produced by David Christensen for the NFB's North West Centre in Edmonton.
Production is slated to wrap in 2014.