NFB and CBC win at 2011 Digi Awards
The NFB's Welcome to Pine Point multimedia story project took home the hardware for Best in Web Series.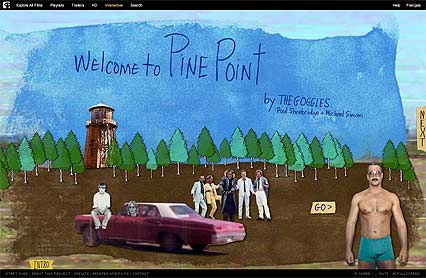 The NFB's Welcome to Pine Point continues to rack up kudos.
The interactive transmedia documentary, created by The Goggles' Michael Simons and Paul Shoebridge and produced by the NFB, won Best in Web series at last night's Digi Awards. The series was also awarded two Webbys this year.
Hosted at The Carlu in Toronto, the awards wrapped up the 2011 nextMEDIA conference with winners named in 17 digital media categories.
Neil Sweeney, CEO at JUICE Mobile, was named Canada's Top Digital Executive and Vice Media took home the Digi Award of Excellence.
Best in Cross-Platform went to Truth & Lies: The Last Days of Osama bin Laden from CBC, which aired as the fifth estate season opener in September, and included an online interactive element that allowed users to follow the re-creation of a raid and the decision making behind it.
Canada's Top Digital Producer went to Loc Dao, executive producer and creative technologist at the National Film Board of Canada.
Drunk and on Drugs Happy Funtime Hour for Action TV from Stitch Media Inc. won Best in Digital Advertising.
Best in Mobile went to the Yellow Pages Application from the Yellow Pages Group. Most Innovative Digital Media Technology went to memelabs at Invoke Media.
Enflick Inc., Vision Critical, HootSuite, Kobo and Acquisio were all awarded as Canada's Top Digital Companies.
Uken Games was named as Canada's Most Promising New Digital Company, and Jam3 was named Canada's Top Digital Design Team and Top Digital Development Team.
Best in Digital Publishing went to Globe News for iPad from the Globe and Mail.
The Digi Awards honour remarkable digital media companies, projects, products and pioneers in the Canadian landscape. The awards were known for a decade as the Canadian New Media Awards, before changing its name this year.