Maddin's Keyhole wins Borsos prize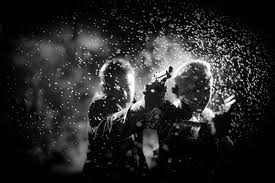 Guy Maddin's Keyhole (pictured) beat out festival darling Monsieur Lazhar to win the $15,000 Borsos prize in Whistler.
The film was one of eight to take home cash prizes from the Whistler Film Festival, which ran wrapped Sunday, Dec. 4.
Keyhole was in competition against Philippe Falardeau's Lazhar, Randall Cole's 388 Arletta Avenue, Jean Marc Vallee's Cafe de Flore, Dylan Akio Smith's Doppelganger Paul and Christopher Petry's Marilyn. The jury praised the surreal 1930s gangster film for its "inventiveness, audacity and humour."
Winners in seven other categories were also named, including Kyzza Terrazas' Machete Language, which took home the $10,000 New Voices International Feature prize; Kivalina v Exxon by Ben Addelman as the festival's Best Documentary; The Paris Quintet in Practice Makes Perfect by Benny Schuetze in the Best Shortwork competition; No Words Came Down by Ryan Flowers and Lisa Phams in the Best Student Shortwork competition and the $1000 prize for Best Mountain Culture Film Award went to Rainforest: The Limit of Splendor by Richard Boyce.
The MPPIA Short Film award went to Mark Ratzlaff for Beauty Mark. Ratzlaff takes home $10,000 from MPPIA, $5,000 from B.C. Film and up to $100,000 in in-kind services, the results of which will premiere at next year's fest.
Tags: Beauty Mark, Keyhole, Kivalina v Exxon, Machete Language, No Words Came Down, Rainforest: The Limit of Splendor, The Paris Quintet in Practice Makes Perfect

The definitive CDN broadcast and production resource.
Over 5,000 company listings!