Chaos and KarmaFilm shooting Ferocious in Saskatoon
The indie thriller stars Amanda Crew, Kim Coates and Michael Eklund, and will be in production through Dec. 14.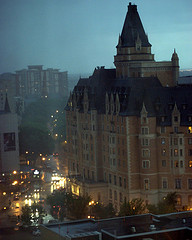 Amanda Crew, Kim Coates and Michael Eklund are top-lining the Ferocious feature shoot in Saskatoon (pictured) from indie producers Chaos and KarmaFilm.
The thriller by writer/director Robert Cuffley stars Crew as a TV actress attempting to retrieve a  sexually incriminating videotape from a seedy nightclub.
Mark Dobrescu is the DOP, while Ken Filewych will edit Ferocious.
Carolyn McMaster and Anand Ramayya share the producer credits on Ferocious, which is shooting in Saskatoon through Dec. 14.
The Canadian feature received investment from SaskFilm, the Alberta Multimedia Development Fund, Telefilm Canada, Superchannel and Canadian tax credits.
Photo: Just a Prairie Boy / Flickr Creative Commons