Whistler Film Fest announces jurors, China spotlight
Jacob Tierney, Sarah Gadon and Shirley Vercruysse among the industry names to adjudicate competitions for the 11th annual festival.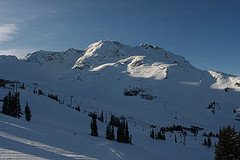 Organizers of the 2011 Whistler Film Festival have announced the six jurors that will determine the winners of the 2011 Borsos Competition for Best Canadian Feature Film and New Voices International Feature Competition.
The Borsos prize, presented by the Director's Guild of Canada – British Columbia and named after Canadian filmmaker Phillip Borsos, comes with a $15,000 cash prize. This year, actor and director Jacob Tierney (The Trotsky), actress Sarah Gadon (A Dangerous Method) and producer Shirley Vercruysse (Radiant City) will pick the winner. The competing films are 388 Arletta Avenue, Cafe de Flore, Doppelganger Paul, Keyhole, Marilyn and Monsieur Lazhar.
The New Voices International Feature Competition is a new talent prize that recognizes a director presenting their first or second film at the festival. Actress Laurence Leboeuf (Ma Fille Mon Ange), KinoSmith president of Canadian distribution Robin Smith and writer Zsuszi Gartner (All the Anxious Girls on Earth) will select this year's winner. The six competing films are Edwin Boyd, Hail, In The Family, The Invader, Laurentie and Machete Language.
The festival is also hoping to build connections with Chinese filmmakers with a Spotlight on China comprising two films and an industry panel. Montreal-based director Xun Yu's documentary The Vanishing Spring chronicles the life of Grandma Jiang, a family matriarch, and Chinese action filmmaker Ching Siu-Tung will present The Sorcerer And The White Snake, a fantasy film starring Jet Li about a herbalist that falls in love with an ancient snake diguised as a woman.
Canadian producers will also have a chance to meet and mingle with their Chinese counterparts during Whistler Summit's China Canada Gateway: Meet The Players, a panel dedicated to the country's consumer film market.
The Whistler Film Festival takes place Nov. 30 to Dec. 4.