2011 WIFT-T Crystal Award winners named
The Women in Film & Television Toronto chapter will honour CBC exec Julie Bristow and two others at its annual awards gala.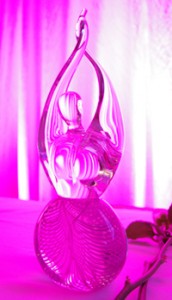 The Women in Film & Television Toronto chapter (WIFT-T) have announced the three winners of its 2011 Crystal Awards.
The annual awards gala, which is organized by the not-for-profit professional organization that supports women in screen-based media, will honour three seasoned industry leaders, chosen by a jury of former Crystal Award winners, at a luncheon in December.
Julie Bristow, executive, studio and unscripted programming at CBC television will receive the Creative Excellence Award. Bristow helped spearhead CBC's factual entertainment division in 2006, and thanks to her, in recent years millions of Canadians fell in love with – and became addicted to – reality TV hits like Dragons' Den, The Week The Women Went and Battle of the Blades.
The Mentorship Award will go to Carol Whiteman, president and CEO of the Creative Women Workshops Association, and producer of the Women in the Director's Chair Workshop (WIDC).
"Carol Whitman is just one of the most giving people in the industry," says Heather Webb, WIFT-T executive director. "She has worked long and hard to really develop the (WIDC) mentorship program, which is well-regarded. Some of the top industry women come through that program. I'm kind of surprised she hasn't won it before," Webb tells Playback Daily.
And Noreen Halpern, president, dramatic programming, Entertainment One Television, will receive the Outstanding Achievement Award. Halpern oversees development and production of primetime series such as The Firm, Hell On Wheels, Rookie Blue, Hung and Haven.
Halpern, Whiteman and Bristow were all nominated by WIFT-T members. "Our membership is just over 700 people so (the number of nominations) fluctuates every year. But people take nominations very seriously," says Webb.
The organization is getting ready to release its latest industry report next week at the International Women in Digital Media Summit in Stratford, ON, which shows there is still a lot of work to be in terms of providing women with the development and networking skills they need in the film and television business, says Webb.
"There's still very much a gap in terms of where women are in the industry in terms of senior executive roles," she says.  "It really is about who you know and getting your foot in the door and mentorship plays a huge role it that as well."