Cloudburst rakes in the festival love
The unlikely audience pleaser about an aging lesbian couple on a rogue road trip is scooping up prizes on the Canadian festival circuit, to the delight of the film's director, Thom Fitzgerald.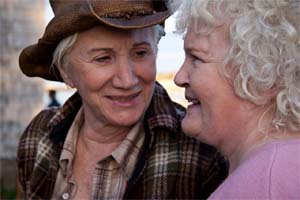 A film about a crude 80-year-old woman who is determined to prevent her lesbian partner from being placed in a nursing home is winning over audiences from coast-to-coast on the Canadian festival circuit.
Most recently, Cloudburst – which stars Olympia Dukakis (Away from Her) and Brenda Fricker (My Left Foot) as a lesbian couple who bust out of their nursing home and drive from Maine to Nova Scotia to get married (before it's too late), picking up a young hitchhiker along the way – won the  Best Canadian Film Award at the  Edmonton International Film Festival earlier this month. The award is voted on by the audience, which made the win more poignant, notes Halifax-based filmmaker Thom Fitzgerald, who wrote and directed the film.
"I would have been quite happy if the film had only appealed to two, silver-haired lesbians but I'm delighted to know that that's not the case," Fitzgerald tells Playback.
Cloudburst was also the fan favorite at last month's Cinéfest Sudbury International Film Festival in Ontario, winning the Audience Choice Award there. And before it moved west from Nova Scotia, where the film was shot, Cloudburst won the People's Choice Audience Award at the Atlantic Film Festival in September.
The film's producer Doug Pettigrew of eMotion pictures is in talks with distributors, but a deal has not yet been confirmed, says Fitzgerald.
Of its $3.5 million budget, $1-millon (USD) came from Sydney Kimmel Entertainment Company, which acquired the film's international sales rights. Other financial support includes Nova Scotia tax credits, and about half a million raised through private investments.
Reviews after Edmonton and, more recently, the film's showing in Vancouver at VIFF,  seem to delight in Cloudburst's comedic moments and the irreverent humour of the female lead played by Dukakis. Fitzgerald also believes the chemistry between the cast members contributes to the appeal. Dukakis and Fricker are long-standing friends, which contributed to a "crotchety" dynamic between the main characters. And they both embraced the handsome Ryan Doucette, who plays the hitchhiker, he says.
"I'm told is that audiences are instantly feel connected to the characters, and I think everyone can relate to trying to hold on to love. Also the trio of leads has a wonderful comedic chemistry. Even the drama makes you smile," Fitzgerald says.