VIFF 2011: Tibetan film takes Dragons and Tigers Award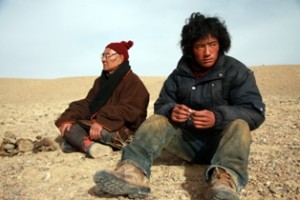 As the prize-giving at the Vancouver International Film Festival begins, Chinese cinematographer Sonthar Gyal on Thursday night earned the Dragons & Tigers Award for Young Cinema for his directorial debut, The Sun-Beaten Path.
"The jury admired its remarkable cinematic qualities and its ability to tell a moving story with complex emotions through one face and one landscape," the Dragons & Tigers jury said about Gyal's drama about Nima, a young man who sets out on a journey to Lhasa after a tragic motorcycle accident that claimed his mother's life.
"We were also impressed by the way the film draws such distinctive characters and by its persuasive evocation of Tibetan culture. It brings us a powerful voice from a new ethnic cinema," the jury added with VIFF still having a week to go before wrapping on Oct. 14.
The Dragons & Tigers award is given to an Asian director that shines early in their career.
Special mentions were given to two other Asian titles: Philippines director Eduardo Roy Jr.'s Baby Factory, and Recreation, by Japanese filmmaker Nagano Yoshihiro.
The prize, which comes with a cheque for $10,000, was handed out Thursday night just ahead of a screening of Isshii Yuya's Mitsuko Delivers.
Tags: Dragons & Tigers Award, Sonthar Gyal, The Sun-Beaten Path, Vancouver International Film Festival, VIFF

The definitive CDN broadcast and production resource.
Over 5,000 company listings!