Reviewed! French Immersion
Opening today in Ontario and Quebec, Kevin Tierney's directorial debut generates a wide range of reaction from the regions' critics.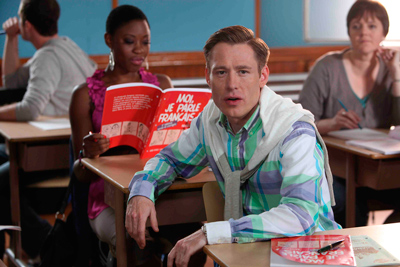 French Immersion is the debut directorial effort from Canadian producer Kevin Tierney (Bon Cop, Bad Cop). Premiering today in Ontario and Quebec, and in Vancouver Oct. 14 and Winnipeg  Oct, 28, the film features an ensemble cast including Karine Vanasse (I'm Yours) and Gavin Crawford (This Hour Has 22 Minutes).
The following are a selection of reviews from Canada's major market daily newspapers in Ontario and Quebec:
The Globe and Mail: 3/4 stars
Reviewed by Stephen Cole: "What with all the subplots, the trick here is the same any plate-spinning act faces: Keep the saucers in the air. Director Tierney is mostly successful at this task. But while there are no smashed plates, we have a couple of wobblers." (Read the entire review here.)
The Ottawa Citizen: 1.5/5 stars
Reviewed by Jay Stone: "The new Canadian film French Immersion isn't one of those bad movies that you hate. It's sort of likable, in fact, in its bad-movie way…" (Read the whole review here.)
The Toronto Star: 1.5/4 stars
Reviewed by Greg Quill: "In the same league as Niv Fichman's disastrously wrong-headed time-waster, Mulroney: The Opera, French Immersion also purports, again in the two official languages, to spike the tender spots in the Canadian psyche by sending a gaggle of bumbling Anglos and a lone American to a picturesque rural Quebec village whose source of pride and revenue is a government-funded French-language school." (Read the whole review here.)
The Montreal Gazette: 2.5/4 stars
Reviewed by Brendan Kelly: "In short, it's a film with a bit of identity crisis, just like the country it's spoofing with so much enthusiasm. There are some very funny moments, but this film – which you could call Bon Prof Bad Student – just doesn't capture the Quebec zeitgeist the way Bon Cop did." (Read the whole review here.)