Skywriter takes Atomic Betty to the big screen
The animated series is being developed into a live-action/CGI feature film.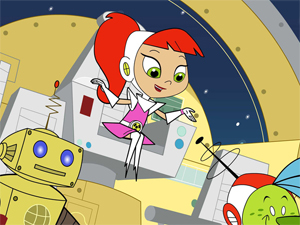 Betty Armstrong may have mad skills in intergalactic guardianship, but Skywriter Media is hoping she also has the chops to battle for box office dollars too.
Kevin Gillis, CEO of integrated production and distribution companies Skywriter Media and Entertainment Group, announced this week the animated kids series Atomic Betty is being developed into a feature-length film targeted for theatrical release.
The film is set to be a combination of live action and CGI. Series head writer Alex Galatis is handling the film's script and Skywriter head of creative development Meghan Davies is developing it. Gillis is named executive producer.
The film has received funding from the Harold Greenberg Fund.
"By combining live action and animation we are extending theAtomic Betty audience to tweens and young teens with an aged-up Betty who attends a real-life Junior High School," Gillis said in a statement. "It's a setting that will be a great magnet for audiences who want stories they can relate to and feel good about."
The film will be traveling to MIPCOM with Skywriter in a bid for distribution deals. Production is being targeted for the first half of 2012.