Bell Media axes Dan for Mayor and Hiccups
The broadcaster declines to pick up third seasons of either half-hour comedy.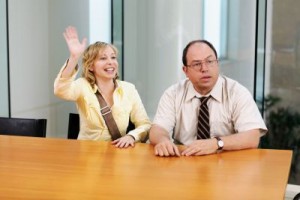 Bell Media has made further cuts to its schedule, deciding not to order new seasons of Dan for Mayor and Hiccups on CTV. This announcement comes on the heels of the news that it has cancelled So You Think you Can Dance Canada after four seasons.
Both Dan for Mayor and Hiccups were going into their third seasons; a statement from Bell Media says the company continues to value the relationships with the production teams from each show.
"We value the creative relationships we have developed over the years with the talented producers behind these series, and look forward to working with them all on new projects."
Bell Media announced earlier this summer that it is in development with Dan for Mayor executive producer Mark Farrell on a comedic news show called The Tim Steeves Project for The Comedy Network.
A representative confirms the company is also working with Hiccups executive producer Brent Butt on the development of a new show. Both Farrell and Butt have previously worked with CTV on Corner Gas, which ran from 2004 to 2009.  Bell Media also hopes to do other projects with Dan for Mayor producers Kevin White and Paul Mather, according to a company representative.
Dan for Mayor averaged 437,000 viewers in season two on CTV, down 43% compared to season one, according to BBM Canada. The show retained approximately 31% of its lead-in, The Big Bang Theory, which averaged 1.1 million viewers an episode.
Hiccups saw an average of 386,000 viewers on CTV in its second season, down 53% compared with season one, according to BBM Canada.
Both shows saw declines of about 50% on the Comedy Network, regardless of the time slot.
From Media in Canada