VIFF stocks up on Canadian titles for 2011 fest
Nearly a quarter of the films at the Vancouver International Film Festival are homegrown, including a raft of documentaries.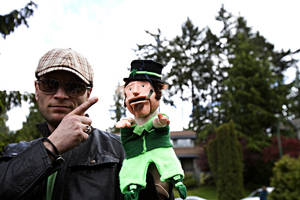 Fittingly so, Canadian titles will be everywhere throughout the Vancouver International Film Festival's lineup this year, which will feature almost a quarter of homegrown productions.
More than 80 Canadian films comprise the 360-plus titles at the fest, across programming streams including Galas, Special Presentations, Heaven and Earth, Real Youth, Cinema of Our Time, and naturally, Canadian Images.
Canadian Images showcases new works from popular and prolific filmmakers as well as from new talent. It also has a focus on productions from B.C. including Hot Docs Best Canadian Feature Family Portrait in Black and White from Julia Ivanova, Sunflower Hour (pictured) from Aaron Houston,  and Donovan's Echo from Jim Cliffe.
Twelve of the 17 films in the program are also non-fiction feature-length projects.
"There is clearly something in the water as we are deluged this year with documentary films that approach the environment and our place in it from a variety of perspectives," said Terry McEvoy, Canadian Images programmer, in a statement.
These include Dianne Whelan's 40 Days at Base Camp, which looks at the receding rate of Himalayan glaciers that is jeopardizing drinking water for millions of people, and Pascal Sanchez's The Ailing Queen, showing how honeybees can warn humans of potential disaster.
Prizes for filmmakers are also up for grabs at VIFF, such as Most Promising Director of a Canadian Short Film with a $2,000 award, the $20,000 Shaw Award for Best Canadian Feature Film, and the NFB Most Popular Canadian Documentary Award, with a $2,500 award in technical services.
Audiences will also select the Most Popular Canadian Film Award, and the most popular film at the fest will receive the Rogers People's Choice Award.
VIFF runs from Sept. 29 to Oct. 14.
Related stories: VIFF adds award winners to lineup