NFB uses security tech to create dance film ORA
Executive producer Rene Chenier talks to Playback about using Lockheed Martin's infrared technology to create ORA, opening at TIFF.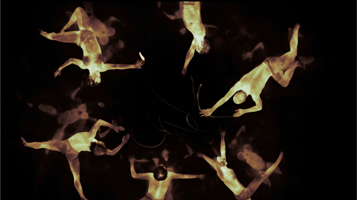 The pairing of filmmakers and US security company Lockheed Martin seems like an odd match, but thanks to the relationship, NFB short ORA, debuting at TIFF, became the first film to be entirely shot via 3D thermal imaging.
ORA, directed, written and researched by Philippe Baylaucq (La dynamique du cerveau, A Dream for Kabul), is a 15-minute film focusing on six dancers in which the only light comes from the heat emanating from the dancers' bodies, captured with the use of infrared technology from Lockheed Martin.
NFB executive producer René Chénier (Glimpses, Facing Champlain) says using Lockheed's infrared technology wasn't the original intention for the film, as he and Baylaucq began first working with low-definition infrared materials such as motion capture and digital capture, but the technologies were "not proving themselves to be based on the high quality standard we have at NFB, in terms of rendering, creativity and tech specifications," he tells Playback Daily. 
Thermal imaging was also more appealing than using special effects because it captures real human movement rather than emulating it, he adds.
Lockheed Martin's high-definition infrared cameras are used mainly for security and detection, so using them for filmmaking purposes was definitely a first, says Chénier.
The cameras couldn't travel outside of the U.S., so Chénier and a team of Canadians headed down to a studio in Vermont for production last fall, and post was handled in-house at the NFB, taking much longer than anticipated since it was the team's first time working with the technology.
Chénier adds that the high-tech elements of the film also meant it was well suited to 7.1 surround sound, rather than the more common 5.1, to add to its creative ambiance.
ORA was filmed in both 2D and 3D, Chénier says, because distributing 3D films presents more of a challenge.
"3D projection is not totally well developed in different parts of the world, so we've decided to make a version in 2D which gives us the chance to distribute the film around the world," he explains.
ORA will open in the Short Cuts Canada program during TIFF 2011, and has been accepted into this year's Vancouver International Film Festival. It will also open for another dance film, Pina, which will be released theatrically in Quebec in mid-December.
The NFB is also continuing to submit it to other film fests in Canada and internationally.