New T.O. recording facility satisfies 'great need': Dolgay
Screen Composers Guild president Marvin Dolgay comments on the opening of Noble Street Studios in Toronto.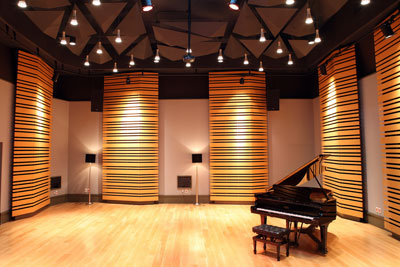 Noble Street Studios, the first recording studio in Toronto to open its doors in around 15 years, is ready for business and that can only be a good thing for the city's composition community, says Screen Composers Guild of Canada president Marvin Dolgay.
While recording studio options in the city exist – including the CBC -  it's generally "slim pickings," he says, noting that most of the sizable studios in the past have all become post-production facilities.
"I think there's a great need for it in the city," Dolgay tells Playback Daily. "I don't know if it's that we've learned to produce so well without those facilities that that's become the way of being now. The expectation from the clients is that we're sitting in these little rooms that don't cost anything, but with a big studio, we can sound better and do bigger recordings. It gives us an infrastructure that's really been needed in Toronto."
The 8,000-square foot Noble Street Studios in Toronto's Parkdale neighbourhood recently opened its doors primarily to the music industry, but owner Henry Gooderham and studio manager Donny Da Silva are also hoping for the studio to appeal to film and TV producers. Most recently, Tricon Films & Television recorded audio and video for the latest season of its music-centric series The Next Star.
Gooderham admitted that the music industry has been on shaky ground, and creating a space for the screen-based industries was a natural fit.
"We'd be crazy to put all our eggs in one basket," he tells Playback Daily. "We wanted to have a recording studio where you could also create video content. We're not trying to replace Deluxe."
With new opportunities also come challenges, one of which is retraining composers to use big facilities again, says Dolgay, noting that he himself started in big studios but that it's been a while since he's used them. As well, many of the guild's younger composers have never stepped foot in a large recording studio before.
"Some of their career goals are to have everything done by real musicians on the floor – and that's all we used to do [before bigger recording studios closed down]. Hopefully we can feed [Noble] and [Noble] can feed us and we can reeducate [our members] to use it," he adds, noting that he's in conversations with Gooderham and Da Silva on ways for the two parties to work together to use the space.
"It's a bit of 'if you build it they will come.' Our TV and film budgets in Canada are tight, it's hard to justify some of what we we'd want to do in a room like that on budget and on time, but hopefully we can get a workflow system between us to make it easier with fiscal realities."