Why launching fewer films at TIFF breaks through market clutter
Robin Smith, head of indie distributor Kinosmith, talks about his 2011 TIFF strategy and why sometimes less is more.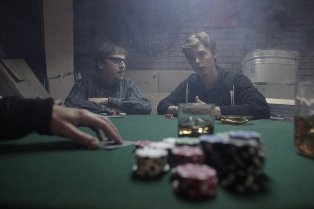 Considering the pressure-cooker atmosphere now building among Canadian film producers and distributors in the run-up to the Toronto International Film Festival, spare a thought for Robin Smith's good fortune.
The veteran film distributor and head of boutique shop Kinosmith has only one film to launch at TIFF, Simon Davidson's The Odds.
But doesn't that put him well in the wake of industry leaders Alliance Films and Entertainment One as they go into the festival with upwards of 20 film titles each to represent and launch?
That's true.
But if Smith is disappointed for the filmmakers he represents failing to see their films in the TIFF lineup, he personally feels good luck in having precious time next month to properly launch The Odds, and to scout for new acquisitions.
"Having that extra time is an advantage," he insists, meaning he won't have to run from screening to screening or check on nervous talent around the clock.
"It really becomes event management, rather than planning for the future," Smith adds.
And the future for films Kinosmith didn't get into TIFF?
Now Smith will be eyeing Sundance or Slamdance as launch pads for dramatic features, or Montreal's Festival du Nouveau Cinema for documentaries.
Missing a TIFF slot does mean a film risks losing the luster that the festival brings a filmmaker with a world premiere of their work.
But it also takes films off the traditional conveyor belt of debuting in Toronto and setting out on the festival circuit to Halifax, Sudbury or Vancouver before a fall theatrical release.
And that has advantages in itself.
"It's a great strategy in some ways, but everyone is doing the same thing. There's a glut of films," Smith argues.
Pushing a theatrical release to 2012 also gets Kinosmith away from having to scramble in July and August to complete post production and cut trailers, leaving little time to build buzz ahead of TIFF.
"I hate rushing films into the marketplace. It never works. Sometimes having some extra breathing space to decide what to do with a film helps a lot," he says.
The Toronto International Film Festival is set to run from Sept. 8 to 18.