CBC pilot Wish List starts production in Port Hope
The road trip drama is top-lined by Mary Walsh and Gabriel Hogan.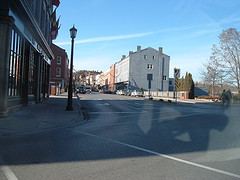 Mary Walsh, Gabriel Hogan and Eric Petersen lead the cast for the CBC pilot Wish List from screenwriter Sean Reycraft (Degrassi, Being Erica) and Entertainment One.
The road trip drama also stars Chelah Horsdal, Tiera Skovbye and Marco Grazzini.
The pilot, directed by Stuart Gillard, portrays Horsdal as a 30-something wife and mother who decides after losing her husband to reconnect with her daughter (Skovbye), her mother-in-law (Walsh) and herself.
A graduate of the Canadian Film Centre, Los Angeles- and Toronto-based Reycraft is a veteran TV and stage writer.
His TV credits include Slings & Arrows, Degrassi: The Next Generation, The Eleventh Hour in Canada, and 90210 and The Vampire Diaries stateside.
Wish List will shoot in Port Hope, which plays the fictional southern Ontario town of Findley, for two weeks.
Reycraft, Noreen Halpern, Rachel Fulford and Barbara Samuels are executive producing.
Reycraft is represented by literary agent Lesley Harrison at Harrison Management.
Photo: Port Hope / adsoupdsa, Flickr Creative Commons