On The Ice, Wapos Bay bookend ImagineNative fest
A dramatic film and a stop-motion feature are among the first works announced for the international Indigenous peoples film fest.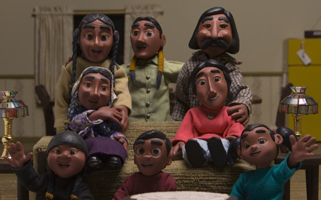 Writer/director Andrew Okpeaha MacLean (Iñupiaq) will open the ImagineNative Film & Media Arts Festival this fall with the Canadian premiere of dramatic feature On The Ice, while the world premiere of stop-motion feature Wapos Bay: Long Goodbyes from Saskatchewan's Dennis and Melanie Jackson will cap it off.
MacLean's feature, starring Josiah Patkotak and Frank Qutuq Irelan, is based on his short film Sukimi, which revolves around two best friends who become involved in a tragic accident.
Long Goodbyes, meanwhile, is based on the stop-motion APTN series Wapos Bay (pictured) featuring voice work by Gordon Tootoosis (North of 60, Legends of the Fall), Andrea Menard (The Velvet Devil) and Lorne Cardinal (Corner Gas). The closing night screening for this film will be presented in memory of Tootoosis, who passed away this July at age 69.
The ImagineNative fest will take place in Toronto from Oct. 19 to 23.