Skywriter Media brings Roddenberry journal to kids TV
Skywriter Media and Roddenberry Entertainment are to jointly develop kids series Gene's Journal.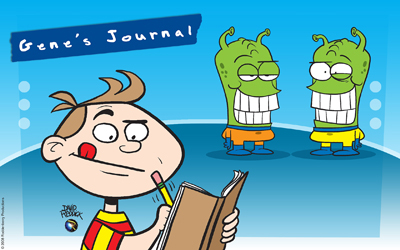 Kevin Gillis' Skywriter Media is pacting with Roddenberry Entertainment on the animated kids comedy Gene's Journal.
Skywriter and Roddenberry will develop the kids series based on the web comic created by Trevor Roth and illustrated by cartoonist David Reddick.
Gene's Journal, targeting 6- to 11-year-olds, will capture sci-fi legend Gene Roddenberry's youth through an early journal that tells the untold "true" story of early abductions by aliens intent on studying humans.
The comedy comes from a young Roddenberry attempting to reconcile his earth-bound life with alien encounters.
Alex Galatis, who worked with Skywriter Media on Atomic Betty, is on board as head writer of the kids series.
"Roddenberry's successful web comic offers a wonderful foundation for this fantastic journey and we look forward to expanding on it in an animated series worthy of the Roddenberry tradition," Gillis said.