CBC buys iThentic's Bruce McCall ani series
The animated shorts are based on the Canadian-born artist's iconic illustrations.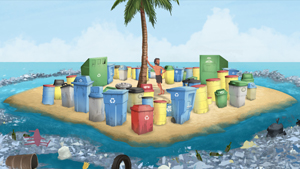 Catherine Tait's iThentic has sold the CBC on a series of animated shorts based on Canadian-born artist and author Bruce McCall's illustrations.
The CBC has acquired from the indie producer and distributor The World of Bruce McCall, comprising five two-minute cartoons to air on its main CBC network and on the Bold specialty channel.
In addition, iThentic has a distribution deal with online broadcaster My Damn Channel to debut Wednesday (July 6) an episode of the McCall-inspired animation series.
The animated shorts are based on McCall's cartoon illustrations, including New Yorker covers.
The TV series includes the shorts The Ascent of Man, which comically portrays man's evolution through the ages, Clear Conscience, Our Energy Free Transportation Future and The World's Worst Golf Course.
Luke Gustafson and Denny Silverthorne directed the animated shorts, which were written by Jeremy Diamond.
Besides iThentic, The World of Bruce McCall is coproduced by animation studio Smiley Guy Studios and content producer Duopoly.
iThentic has also launched a crowd-sourced funding campaign through Kickstarter to raise production dollars for a new short animated film based on another of McCall's New Yorker covers called Love in the Time of Dendur.
Contributors to the project may also have their animated likeness make an appearance in the short film, which Baylin says gives them an extra incentive to back the project.
with files from Emily Claire Afan
Photo: Clear Conscience, Bruce McCall