Bridesmaids' Feig, Hangover's Jeong to receive JFL honours
The upcoming Just For Laughs comedy conference has added director Paul Feig and actor Ken Jeong to its list of award winners.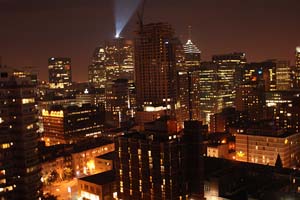 The Just For Laughs comedy conference added star power Wednesday by announcing Bridesmaids director Paul Feig will receive its comedy director of the year award, while Ken Jeong, who plays Mr. Chow in The Hangover franchise, will be honoured as breakout comedy star of the year.
The tributes, to be handed out at the July 28 to 30 conference at the Just For Laughs comedy festival, come alongside standup comic Louis CK being named comedy person of the year, and Steven Levitan and Christopher Lloyd being tapped as comedy writers of the year
Bridesmaids' Feig will also present a master class in Montreal as part of the Telefilm Canada features comedy lab, in partnership with the Canadian Film Centre.
Photo: Montreal at night. By agrifontes, flickr creative commons