CRTC introduces reality TV category for log books
The TV watchdog looks to distinguish entertaining reality TV shows from sophisticated long-form documentaries.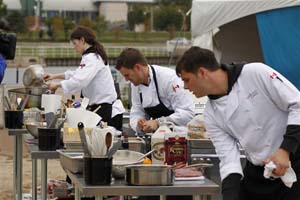 The CRTC has faced reality.
The broadcast regulator has added a new category, "reality television," for broadcasters to enter on their programming log books.
The aim is to distinguish Jersey Shore and Big Brother from point-of-view documentaries.
"The commission noted that reality television programming can have documentary-like elements and that this type of programming could therefore be confused with what the commission currently defines as Category 2(b) long-form documentary," the CRTC said in a June 30 decision.
The regulator also said reality television does not require the regulatory support long-form documentaries do as Canadian broadcasters increasingly bypass point-of-view documentaries for Battle of the Blades and Top Chef Canada to boost ratings and ad revenue.
"Consequently, including reality television in the same category as long-form documentaries would be inconsistent with the objective of supporting programs of national interest," the CRTC argued.
Photo: Top Chef Canada, Shaw Media