Citytv's fall sked revealed
The net's new prime time schedule is accompanied by the announcement of a new 24-hour news channel to debut this fall.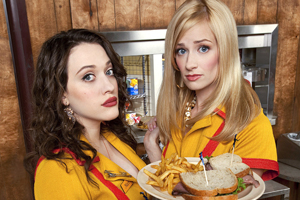 Rogers Media today announced a slate of new dramas and comedies for its fall schedule, along with the launch of a new 24-hour news channel, CityNews Channel.
The mediaco's fall slate was kept close to its vest following the LA Screenings earlier this month, but its cards are now out on the table, with buzz-generating dramas Terra Nova, The Playboy Club, Person of Interest highlighting its new dramas, and 2 Broke Girls (pictured), New Girl and Last Man Standing on the comedy side.
The only new Canadian series on the schedule, Canada's Got Talent and Secret Millionaire Canada, are set to debut mid-season, and to-be-determined, respectively. Further details on CityNews Channel were not available as of press time.
Citytv's Monday nights are sporting a whole new look, with three of its four prime time slots filled with new shows. Terra Nova, a new sci-fi show from Fox, is in the 9 p.m. slot, 2 Broke Girls from CBS at 9:30 p.m. (one hour out of simulcast with CBS, which will air it at 8:30) and the Mad Men-style The Playboy Club at 10 p.m., airing in simulcast with NBC.
Tuesday sees just one new fall show, New Girl, starring Zooey Deschanel, at 9 to 9:30 p.m., which will be followed by Raising Hope, a Fox show new to Citytv.
Wednesday, Citytv beefed up its comedy lineup with The Middle (a Patricia Heaton-starrer new to the channel) at 8:30 p.m., Suburgatory from ABC at 8:30 p.m., followed by Modern Family,  the return of its new spring show, Happy Endings, and a new drama from ABC, Revenge, in the 10 p.m. slot.
Thursday sees Community and Parks and Recreation hold firm in their NBC simulcast slots of 8 and 8:30, but the comedies will be followed by two new dramas to Citytv: Person of Interest, starring Jim Caviezel, at 9 p.m. and Private Practice, new to Citytv, at 10 p.m.
Fridays are new-show free for fall, but Saturdays have Dussault Inc in the 8:30 slot and Sundays will see comedy Last Man Standing at 7 p.m. and new Canadian series', The Quon Dynasty, which will switch to Extraordinary Canadians in the 7:30 slot once it's finished its run – further details on the Sunday schedule were not available as of press time.
New midseason shows include Alcatraz from J.J. Abrams, Apartment 23, Scandal, and Shameless.
Rogers will host its upfront presentation Monday afternoon.