Interest in web-connected TVs on the rise: Deloitte
TV is still king for live and "professional content" viewing but smartphones rule for UGC, says the latest State of the Media Democracy from Deloitte.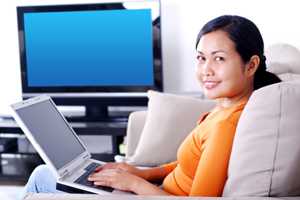 While 61% of Canadians still prefer to watch TV programs live on TVs, only 45% of us are fully focused on the TV while we watch it – the other 55% are emailing (29%), surfing websites (29%), texting (16%) and using social media (13%).
So says the latest State of the Media Democracy report from Deloitte, a global study of multiple markets. The Canadian sample included 1936 people, polled online, and is representative proportionally across the Canadian provinces and both genders.
Interestingly, however, the study also found that the surge in viewing screens may be causing Canadians some frustration: 44% of those polled said that the ability to move music, TV shows and other content across platforms and devices was "desirable/extremely desirable" and 28% said that they'd like to have an online storage service so they can access content they own from any device.
In the same vein, connectivity among home media devices also ranked highly in Canadians' interest, Darren McLennan, strategy and operations, Deloitte in Canada, says.
"The biggest thing that people do want to do with their digital content is get it onto their television in their living room. [Approximately] 60% of Canadians said they would like to have their televisions connected to the internet, whereas 10 or 11% said they have done it, which suggests a lot of latent demand for internet-connected television," he explains.
"Based on what we've seen, [people] want information services on the television, but the biggest thing they want is video on the television," he says.
The study revealed that people prefer to watch professionally created content on their home televisions, while they prefer to watch user-generated content on their mobile phones, he says. The likely answer, he says, is simply length of content.
"They don't want to watch Avatar on their Blackberry," McLennan says. "They want to watch little clips."
Media piracy was also addressed in the survey: 8% of respondents said they use peer-to-peer networks, the same amount who said they use free online video services to watch TV show. Fifteen per cent  admitted to downloading or streaming movies from free online sites – a significant increase over American respondents, of which 6% admitted to doing the same.