OLN's reality bid for summer season
The Outdoor Lifestyle Network's summer lineup goes heavy on auction-based reality shows.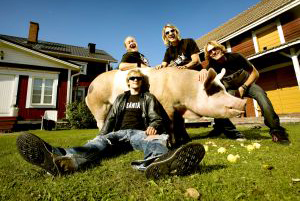 Rogers Media-owned OLN presents a notable taste for action drama and travel adventure this summer, with a lineup of eight new colourful reality shows, as well as new seasons of Operation Repo and Conspiracy Theory with Jesse Ventura.
Leading the auction-packed schedule is reality show Storage Wars, which premieres Monday, June 27 at 7:30 p.m. and gives viewers a look into the competitive game of storage bin hunting.
Thrill-seeking hooligans, The Dudesons, follow with the reality show's debut episode airing at 8:30 p.m. Season two of Operation Repo premieres the same evening at 9 p.m.
Big Brian Fortune Seller, a reality series which takes liquidating homes to a whole new level, airs its pilot episode on Tuesday, June 28 at 9:30 p.m.
OLN programming turns paranormal with the launch of Haunted Collector on Thursday, June 30 at 9 p.m.
The weekend reality schedule opens up with back-to-back episodes of Python Hunters airing Saturday, July 2 at 7 p.m., and again at 7:30 p.m. as well as Madventures at 9 p.m., with a second episode at 9:30 p.m.
Forbidden Storage, another auction reality show to add to the bill, makes its premiere appearance Monday, July 25 at 9:30 p.m.
Completing the reality show round-up is Legend Quest, which follows symbologist Ashley Cowie around the world in his search for artifacts. The adventure series debuts Friday, July 29 at 9 p.m.
Conspiracy Theory with Jesse Ventura premieres with two new seasons on Sunday, July 3 at 9 p.m. The reality show attempts to uncover the truth behind conspiracy theories, from global warming to secret societies.
The summer shows will be promoted across the network's television and online platforms, including Citytv and Sportsnet, on OOH billboards as well as on Rogers radio stations.
From Media in Canada