Editors honored at first annual Canadian Cinema Editors Awards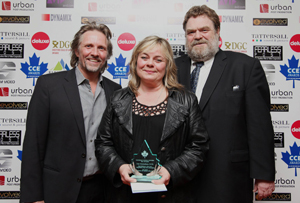 Editors were feted Friday night at the inaugural Canadian Cinema Editors Awards in Toronto.
The ceremony took place in front of a sold out crowd at the Capitol Event Theatre, where awards in eight categories were doled out.
Best editing in a feature-length dramatic went to Michele Conry for Splice, while best editing in MOW/mini-series went to Mike Lee for Keep Your Head Up, Kid: The Don Cherry Story.
For the small screen, Lisa Grootenboer (pictured) took home the award for best editing in one-hour broadcast long-form dramatic for The Tudors (Ep 405, "Bottom of the Pot") and David B. Thompson's work on Living in Your Car (Ep 101) snagged the editing award for half-hour broadcast short-form dramatic.
Other winners included Nick Hector for documentary (Force of Nature: The David Suzuki Movie),
Jay Prychidny & Jeff Reynolds for lifestyle/reality with Canada's Next Top Model  (Ep 308 "Rockin' The Runway), Annellie Samuel for animation (Producing Parker, ep 120 "How Green Is My Parker") and Roderick Deogrades for short film The Day I Thought I Died.
Four students – Deborah Gurofsky, Lauren Horn, Cameron Nixdorf, Ernesto Sosa Lopez – also snapped up Student Merit Awards.
For more information, head over to www.cceditors.ca
Tags: Annellie Samuel, Cameron Nixdorf, Canadian Cinema Editors, David B. Thompson, Deborah Gurofsky, Ernesto Sosa Lopez, Jay Prychidny, Jeff Reynolds, Lauren Horn, Lisa Grootenboer, Michele Conry, Mike Lee, Nick Hector, Roderick Deogrades, The Tudors

The definitive CDN broadcast and production resource.
Over 5,000 company listings!