Hot Docs announces audience favorites and increased attendance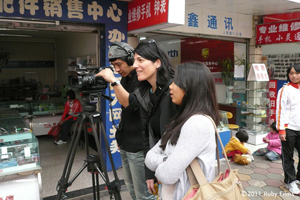 It may be a global documentary feast, but Hot Docs audiences like their American and British films, judging by this year's audience awards.
Hot Docs organizers on Monday said the festival drew an estimated 151,000 cinema-goers to its just-concluded 18th edition, up 11% from last year's attendance.
And ordinary Hot Docs film-goers voted US filmmaker Linda Goldstein's Somewhere Between their most favorite film.
Somewhere Between is about four teenage American girls who were adopted from China as a result of that country's one child policy, and who then seek out their roots.
The second-most favourite Hot Docs title was Michael Collins' Give Up Tomorrow, a US-British co-production, and in third was US filmmaker Peter Richardson's How To Die in Oregon.
The fourth most popular doc in Toronto was Wild Horse, Wild Ride, by US filmmakers Alex Dawson and Greg Gricus, while British filmmaker Asif Kapadia's Senna, a biopic about the famed Brazilian face car driver, came in fifth place.
The 11-day event featured, in all, 360 public screenings of 199 films on 16 screens across Toronto.
Tags: Alex Dawson, Asif Kapadia, Give Up Tomorrow, Greg Gricus, Hot Docs, Hot Docs 2011, How To Die in Oregon, Linda Goldstein, Michael Collins, Peter Richardson, Senna, Somewhere Between, Wild Horse, Wild Ride

The definitive CDN broadcast and production resource.
Over 5,000 company listings!