Hot Docs racks up film sales in crisis-era market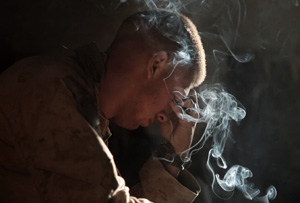 There's money in indie documentaries? Distributors at Hot Docs think so after they picked up a raft of films at the mid-way point of the Toronto documentary festival.
Most are American films, with Showtime Networks picking up the US exhibition rights for Fightville, a documentary about UFC mixed martial arts fighters from American directors Michael Tucker and Petra Epperlein.
Despite a Canadian indie documentary market facing contraction and uncertainty as Canuck broadcasters commission fewer point-of-view documentaries, New York-based New Video grabbed the North American rights to the Afghanistan soldier doc Hell and Back Again (pictured) from director Danfung Dennis.
And Ron Mann's boutique distributor Films We Like acquired the Canadian rights to The Ballad of Genesis and Lady Jaye, about two people who face cosmetic surgery to more closely resemble each other. Earlier, it picked up the Canadian rights to Conan O'Brien Can't Stop, by US filmmaker Rodman Flender.
The indie film community brought Hot Docs other celebrity-driven titles this year that have managed to sell in a crisis-era market.
These include PBS International acquiring the worldwide TV rights outside of the US to Dan Sturman and Dylan Nelson's The Hollywood Complex, about aspiring child actors competing in Hollywood for pilot season roles, while Video Services Corp. acquired the Canadian rights to Billy Corben's Limelight, about the Canadian nightclub owner Peter Gatien in 1990s New York City.
The modest return to deal-making at Hot Docs this week also included 7th Art Releasing buying the North American and world TV rights to Britta Wauer's In Heaven, Underground: The Jewish Cemetery in Berlin-Weissensee.
Tags: distribution, Fightville, Films We Like, Hell and Back Again, Hot Docs

The definitive CDN broadcast and production resource.
Over 5,000 company listings!