CBC's documentary channel joins The Team at Hot Docs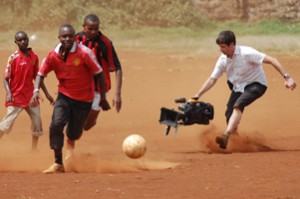 Patrick Reed's The Team, a White Pines Pictures documentary about Kenyans making a TV soap opera about a soccer team that was shot without a Canadian broadcaster on board, has snagged a domestic TV deal on the eve of its Hot Docs date.
The CBC's documentary channel has acquired the domestic broadcast rights to the feature-length doc, which will screen this Sunday at Hot Docs after bowing at the IDFA Documentary Festival in Amsterdam and The London Human Rights Watch Film Festival.
The Team got off the ground in 2009 when it earned the Canwest Hot Docs pitch prize at that year's Hot Docs festival.
The Canadian documentary was produced by White Pine Pictures in association with ITVS International, Knowledge Network, and via the Stories of Change program at the Sundance Institute.
The Patrick Reed picture is distributed by Films Transit International.
Tags: CBC, documentary channel, Films Transit International, Hot Docs, Hot Docs 2011, ITVS International, Knowledge Network, Patrick Reed, Stories of Change, Sundance Institute, The Team, White Pines Pictures

The definitive CDN broadcast and production resource.
Over 5,000 company listings!