Canadian actors urge votes for culture on May 2
ACTRA wants politicians to back homegrown films and TV shows by waving the flag, and the taxpayer's wallet, after May 2 election.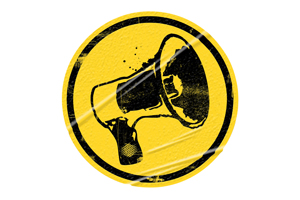 Message to the federal parties on the campaign trail ­ stop ignoring Canadian cultural issues and answer that ACTRA questionnaire.
So said a roomful of Canadian actors Wednesday at Bell Lightbox in Toronto as they urged politicians to back homegrown films and TV shows by waving the flag, and the taxpayer's wallet after May 2 election.
"We're urging Canadians to take a look at what the parties are saying about their plans for our cultural industries before they vote," Colin Mochrie told the rally organized by ACTRA, the country's performers union.
And they urged the federal parties to more fully outline where they stand on issues such as foreign ownership, film funding and collective licensing mechanisms, after mostly giving cursory replies to an ACTRA questionnaire.
Mark McKinney was especially miffed that the Conservatives failed to return the questionnaire.
"It's only eight questions, Mr. Harper," the veteran actor said in an appeal to Canadian prime minister Stephen Harper, now on the campaign trail.
"And if you don't answer those questions, I will crush your head," he added bluntly.
The actors took their turns raising the alarm for Canada's cultural identity and the country's ability to tell stories on the domestic airwaves and emerging digital platforms.
"When I put my kids to bed, every single night, they ask for a story," She's The Mayor creator Sudz Sutherland told the press conference.
"What would happen if they didn't have a story? I don't think Canadians don't want their stories not told," he added.
And Jayne Eastwood, the Dame of Canadian performers, said growing industry consolidation and foreign ownership of Canadian media will do little to get local stories made and told to sustain and grow this country's cultural identity.
"We need a government that supports culture and doesn't leave it open to market forces to be sold off to the highest bidder," Eastwood said.