The Team makes Hot Docs without Canadian broadcaster
"This is the film no Canadian broadcaster wanted you to see," says White Pines Pictures topper Peter Raymont about The Team, premiering at Hot Docs May 1.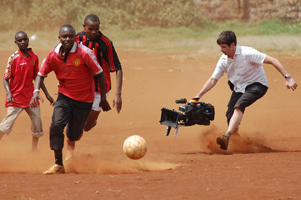 For indie filmmaker Peter Raymont, it's become a habit. An expensive habit at that.
The White Pines Pictures topper has secured a Hot Docs berth for The Team, the Patrick Reed-directed doc about Kenyans making a TV soap opera about a soccer team that was shot without a Canadian broadcaster on board.
That follows CBS last August agreeing to finance script development for a Canadian-made cop drama after a Los Angeles pitch, and well ahead of CTV jumping on board as a co-developer.
And White Pines is negotiating with PBS WNET to do another American Masters series doc after the success of Genius Within: The Inner Life Of Glenn Gould ­ again with no Canadian broadcast backing out of the gates.
"This is the film no Canadian broadcaster wanted you to see," Raymont told Playback Daily about The Team, which got off the ground in 2009 when it earned the Canwest Hot Docs pitch prize at that year's Hot Docs festival.
Further pitches to Canadian broadcasters came up empty: CBC Newsworld had just stopped commissioning documentaries and was just acquiring them, while TVOntario didn't see a Canadian angle or character in a film about a Kenyan TV show looking to bridge often deadly ethnic divisions.
There was similarly no fit with the main CBC network's Doc Zone strand.
So Raymont and Reed turned elsewhere for coin, and found it from the U.S.-based ITVS International Open Call and the Sundance Institute Documentary Film Program supported by the Skoll Foundation.
With only Canadian tax credits, The Team was shot for $560,000 over the course of a year where director Reed and his team followed production on the provocative soap about a co-ed multi-ethnic soccer squad.
"He (Reed) went over there five times. You want to film when they're developing, casting and filming and going out on TV," Raymont said of the doc capturing the Kenyan TV production team challenges in facing deadlines and questions over the soap's ultimate ratings potential.
The Team has succeeded on the festival circuit, with the Hot Docs date preceded by screenings at the International Documentary Festival Amsterdam, Full Frame in North Carolina, the London International Documentary Festival and the Human Rights Watch Film Festival, also in London.
Jan Rofekamp's Films Transit International is selling the Canadian doc internationally, and The Team is set to air on PBS World's Global Voices strand stateside.
What about Canada?
Knowledge Network bought the doc after White Pines finished production, with Raymont and Kelly Jenkins producing.
But that's only British Columbia, and for a small license fee. Raymont is hoping Hot Docs will help spur additional Canadian broadcast sales.
He could use the Canadian financing. Producing TV programming outside the Canadian system is expensive and complicated.
"The mechanisms are here. It's tight, and we have to recoup money from foreign sales to pay back our own investment," Raymont said of producing without initial Canadian broadcast support.
He's off later this month to MIPTV in Cannes, an expensive market at which to do business.
"I don't stay in the Carleton Hotel. I stay in an apartment and try to eat at as many receptions as possible. You have to do that," the indie producer said.
Still, Raymont insists having foreign broadcasters, knowing White Pines' track record, approaching the indie producer before Canadian broadcasters come on board is good discipline.
"We call it the (Canadian) eco-system. It can slow you down. You need it for anything significant. But you don't need it to be in first," he remarked.
The Team will have its Canadian premiere at Hot Docs on May 1 at the Royal Cinema in Toronto.