CTV super-sizes Junos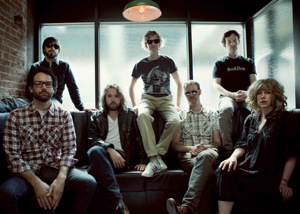 Pictured: Broken Social Scene appears for the 2011 Junos.
CTV is super-sizing the Junos to two and a half hours.
The 40th edition of the music awards on March 27 will be extended from 8 p.m. EST in most of the Canadian TV market.
Last year's Junos on CTV pulled in an average 1.6 million viewers, putting the Canadian show firmly in primetime, and to follow ABC's Amazing Race at 7 p.m. on the main network this year.
In Atlantic Canada, Amazing Race will air at 8 p.m., followed by the live Junos telecast from 9 p.m.
The Junos' pre-show red carpet strut by Canada's top music acts will air partly on CTV for a half-hour from 6:30 p.m., before shifting to Amazing Race, and elsewhere on CP24, CTV.ca and on E!.
More kudosfest means more star wattage: Bryan Adams, Buffy Sainte-Marie, Daniel Lanois, Robbie Robertson and members of classic rockers Rush are the latest additions to the Junos talent lineup.
The 2011 Juno Awards is produced by Insight Productions for CTV and The Canadian Academy of Recording Arts and Sciences.
Executive Producers are John Brunton and Barbara Bowlby for Insight Productions, and Melanie Berry and Ed Robinson for CARAS.
Tags: Amazing Race, CTV, Insight Productions, Junos

The definitive CDN broadcast and production resource.
Over 5,000 company listings!