Six BC filmmakers win Crazy8s short film competition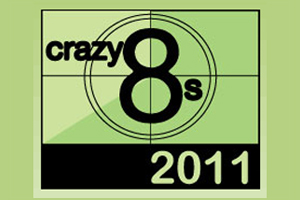 Crazy8s has named the six winning teams for its upcoming short film event in which the participants will take place in a whirlwind eight-day production cycle.
Alchemy (Zachary Rothman, Heather Lindsay), Chained (Rehan Khokhar, Cole Hewlett), Colouring the Walls (Julie Stangeland, Athan Merrick and Julie Stangeland), Dead Friends (Stephen Martin, Katelyn D. Mann), Funny Business (Andrew Templeton, Russell Bennett, Gillian Bennett, S. Siobhan McCarthy and Kate Green) and Run Dry (Jordan Hall, Sarah Crauder).
The list of 120 applicants was whittled down after video pitches, in-person pitching to a professional film jury and passing a script workshop with story editors, making the cut based on strength and originality.
The eight days of production runs March 25 to April 1, with the finished projects debuting at April 9 at the Vogue Theatre in Vancouver.
For more info, check out www.crazy8s.cc.
Tags: Alchemy, Chained, Colouring the Walls, Crazy8s, Dead Friends, Funny Business, Run Dry

The definitive CDN broadcast and production resource.
Over 5,000 company listings!