Modus FX uses film background to explore game cinematics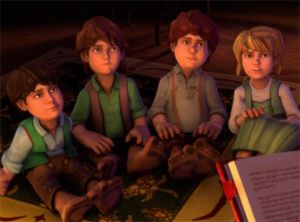 When it comes to creating cinematics – also known as cutscenes – for games, the team at Montreal post house Modus FX discovered it wasn't much different from working on films.
It was a pleasant discovery for Modus (Barney's Version, The American, Jonah Hex), which landed its first opportunity to tackle the game world last year on The Lord of the Rings: Aragorn's Quest (pictured) from publisher Warner Bros. Interactive Entertainment. (Interestingly, WBIE is also opening up shop in Montreal.
VFX and animation company Digital Dimension, also in Montreal, was initially on board to do cinematics for Aragorn's Quest. Yanick Wilisky, co-founder and VP of production of Modus, says DD then approached him to help out with the workload that was eventually split between the two companies.
"Since we started Modus, we wanted to get into cinematics. The pipelines are strangely similar – in a nice way," Wilisky tells Playback Daily. "We had so much freedom it was unbelievable. The imagination can go more wild than in film, in a way. Because of the technical and money challenge in film, it's more difficult. I love the medium, I love where it's going, I love the limitless boundaries."
Digital Dimension (DD) handled the front end, from animation and layout, then Modus came in to finalize the work, from lighting, final rendering, final compositing and delivery. Modus collaborated with a DD artistic director, who worked closely with the game's director, and they gave the post house the freedom to propose its vision for the cinematics.
Aragorn's Quest was released this past fall, and DD was so pleased with Modus's work that it asked the team to collaborate once again on another WBIE title, F.3.A.R. Wilisky recalls his team jumping on the chance to do it again, as many employees are also gamers.
"People played the game here because we had a (beta) build so we could test some levels and verify what we were doing against the game to make sure it wasn't too different," he says.
Modus is definitely interested in exploring more opportunities in game cinematics, but Wilisky says he's waiting for F.3.A.R.'s Q1 release this year before shopping around so he has some cards to play with.
On the film side, Modus is currently in post on Source Code, Jane Eyre and Immortals.
Tags: Aragorn's Quest, Digital Dimension, F.3.A.R., Modus FX, Yanick Wilisky

The definitive CDN broadcast and production resource.
Over 5,000 company listings!