Amazing Race 17 holds on to top spot
The reality program is the most-watched show for the second straight week, with CSI and The Big Bang Theory rounding out the top three in BBM Canada's Top Programs.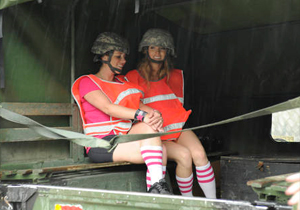 Pictured: teams head to the de-militarized zone at the North Korean border for Amazing Race 17.
Here are the top-ranked shows in Canada (for all persons 2+; all times ET), according to BBM, for Dec. 6 to 12, 2010:
Monday: Two and a Half Men on CTV at 9 p.m. was the top show Monday night with 1.837 million viewers, up from the previous week's 1.542 million, which was good enough for second.
Tuesday: Glee on Global at 8 p.m. held on to its spot with 2.372 million viewers. The second most-watched show of the night was CTV Evening News with 1.624 million viewers.
Wednesday: Criminals Minds on CTV at 9 p.m. regained its spot at the top of Wednesday night, getting 2.286 million viewers. Last week's winner, Survivor: Nicaragua, was a close second with 2.015 million.
Thursday: CSI on CTV at 9 p.m. won a tight three-way race for the night's top spot, beating out two other CTV shows, The Big Bang Theory and The Mentalist, which had 2.659 million and 2.494 million viewers, respectively.
Friday: CTV Evening News at 6 p.m. had 1.624 million viewers, beating out last week's winner, Blue Bloods, which dropped from 1.756 million to 1.211 million viewers.
Saturday: The Hockey Night in Canada jersey-hanging ceremony at 10 p.m. had 1.958 million viewers. The special presentation covered the raising of Markus Naslund's Vancouver Canucks jersey to the rafters.
Sunday: Amazing Race 17 was the top show on the night and the week, with 2.738 million viewers, a small increase over the previous week, when it took top spot for the night and week with 2.681 million.
From Media in Canada.